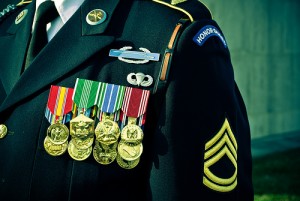 United States Veterans are given honorable, military funerals to commemorate the time they spent while serving our country. Family and friends are comforted in the traditions and respectful services created in honor of their loved one. Serving our country in the military is incredibly honorable. So, with respect to the fallen soldiers who have made this sacrifice, we salute them with tradition, respect and honor in the way of Military Honors.
Military funerals can take place at private cemeteries and national cemeteries dedicated to fallen soldiers across the country. There are 128 national cemeteries and 33 soldier's lots through out our nation alone. Religious traditions are often tied into the service to honor both the deceased's religion and military duty.
Draping the Casket with the National Flag
The tradition of draping the American Flag over the casket of a fallen soldier began during the Napoleonic War between 1796 and 1815. The deceased were carried off the battlefield covered in flags to honor their sacrifice. This practice continues to this day, but instead of several small flags, a large American Flag is draped over the top of the casket.
A United States flag is provided, at no cost, to drape the casket or accompany the urn of a deceased Veteran who served honorably in the U. S. Armed Forces.