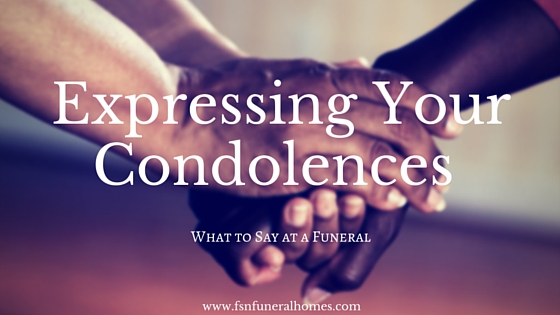 Funerals are hard.  Finding the right thing to say to the grieving family is an intimidating task.  Religious and cultural differences can add to this difficulty.  Here are a few ways to appropriately express your condolences at a funeral.  
"I'm sorry for your loss." –  This is the classic thing to say when you don't have the words to express your sympathy.  It allows the person to know you are thinking of them and grieving with them.
Share a memory- Sharing your most fond memory of the deceased person can be a great way to express your condolences.  It also allows the grieving person to have a positive moment during a tough time.
"I'm thinking of you and your family."- This lets them know that they are at the forefront of your thoughts.  
Some people will feel differently about how you express your condolences than others, so remember to always be respectful of the deceased and the family.  Sometimes a hug or handshake is the best way to express how you feel, because there aren't always words.  Depending on your relation to the deceased, you may feel the loss as strongly as the immediate family.  
For someone you did not know very well or never met, express your condolences by letting the family know how much you knew that person meant to them.  You can tell them that you know their lost loved one had a large role in shaping them into the person they are. Let them know that you are there to support them in anyway they may need.  "My heart goes out to you and your family at this time," is a great phrase to use in this type of situation.
Losing a loved one is never an easy thing.  Just your presence at the deceased's service will mean more to the family than you could imagine.  Being supportive of the family and offering a few kind words will go a long way.