The purpose of a Memorial Garden is to keep memories of a loved on close by. It's a tribute in honor and remembrance of someone you have lost.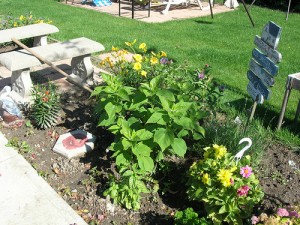 Setting aside a place in your backyard dedicated to your loved one's memory, gives you a place that is relaxing, serene, and calming. A place to speak to your loved one in the privacy and comfort of your own home. A memorial garden is also a wonderful healing tool for children who are grieving the loss of a parent or sibling. Letting the child help create the memorial, including objects or flowers that are important to them can help ease the pain.
Starting Your Memorial Garden

Create a rock garden by outlining a quiet, secluded area of your yard with stones. Stones you can find in nature or buy from a nursery. Plant flowers or a small tree in the center. Adding decorative, solar lights to your memorial garden will keep the memory of your loved one shining bright.