The purpose of a Memorial Garden is to keep memories of a loved on close by. It's a tribute in honor and remembrance of someone you have lost.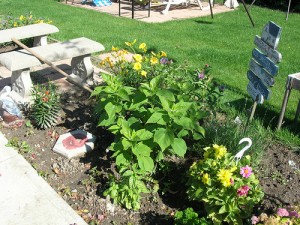 Setting aside a place in your backyard dedicated to your loved one's memory, gives you a place that is relaxing, serene, and calming. A place to speak to your loved one in the privacy and comfort of your own home. A memorial garden is also a wonderful healing tool for children who are grieving the loss of a parent or sibling. Letting the child help create the memorial, including objects or flowers that are important to them can help ease the pain.
Starting Your Memorial Garden

Create a rock garden by outlining a quiet, secluded area of your yard with stones. Stones you can find in nature or buy from a nursery. Plant flowers or a small tree in the center. Adding decorative, solar lights to your memorial garden will keep the memory of your loved one shining bright.
Personalizing Your Memorial Garden
Aside from the flowers, there are several ways to personalize your memorial garden.
A bird bath engraved with your loved one's name
A water fountain to bring soothing sounds to your garden
A statue or cross commemorating your loved one
A plaque inscribed with the person's title. (For example: Mother or Father)
Personalized stepping-stones
A wind chime hanging over the garden
A wooden bench engraved with your loved one's name is a great addition.
When choosing the flowers for the garden consider your loved one's favorites, including their favorite smell and favorite color. If red roses were their favorite, plant a red rose-bush. If you want to create a vibrant fragrance in your memorial garden, include lilies, lavender, roses, lilacs or gardenia.
The memorial garden you create promotes healing. Maintaining your garden is therapeutic, and the beauty of your garden will keep the memories alive.
Special thank you to Clipp2nd for the beautiful picture of the Memorial Garden
Tags: Coping, Grieving, Grieving Children, Memorial Service, Monuments