Honesty is the Best Policy When Addressing Death with Children
The death of a loved one can be a painful experience for anyone, but for a child, it can be especially difficult. It's important that adults provide an environment that promotes healing. The National Funeral Directors Association (NFDA) offers suggestions on how to help children cope with loss.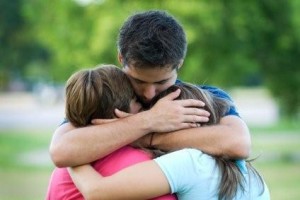 It may be difficult to inform a child about the death of a loved one, but honesty is the best policy. Avoid using euphemisms, such as "Grandma is sleeping" or "Uncle John went on a long trip." For young children, be straightforward and use simple phrases, such as "…the person's body has stopped working and won't work anymore." For older children, more details may be appropriate.
Many often wonder whether children should attend funerals. Experts agree that it is healthy for children to attend the funerals of their loved ones. Prior to the funeral, parents should discuss with their child what will happen at the visitation, funeral or memorial service. Be honest and clear – children take things literally, so avoid being vague in your descriptions.
If a child feels comfortable, they may wish to play a role in the funeral service. Let them read a poem or letter, or sing or play a song during the service. Funeral directors can find ways for the child to participate in the service.
Just like adults, death is something a child will not just "get over." In addition to having a confidant who provides continuous love and assurance, there are other ways adults can help children cope with grief.
Be a role model: Children often imitate what they see. They will look to their parents or other significant adults for cues about grieving. It's important for children to know it's okay to express their emotions following the death of a loved one.
More Tips For Helping Children Deal With Grief:
Find peer support: For many people, identifying with peers who are going through a similar experience can be uplifting. The camaraderie of a grief support group can be a powerful healing tool.
Incorporate ritual: Whether it's lighting a candle, helping scatter cremated remains or taking part in an activity that was special to the deceased, rituals can help a child focus on the memory of their loved one.
Use the arts: It may be difficult for children to verbalize their feelings; the arts can be an outlet for expressing grief. Writing, painting, poetry, music and crafts can help children express what they are experiencing.
An NFDA-member funeral home can provide more information on helping children cope with grief following the death of a loved one; visit www.nfda.org.
NFDA recently partnered with Sesame Workshop, the nonprofit organization behind Sesame Street, to distribute When Families Grieve, a bilingual (English and Spanish) multimedia resource kit, featuring the Muppets from Sesame Street, for young children and families who have experienced the death of a parent.
The materials aim to:
Reduce the levels of anxiety, sadness and confusion that children may experience following the death of a parent.
Provide families with age-appropriate tools to support and comfort children, including ways to talk about death with a young child.
Reassure children that they are loved and safe and that, together with their families and friends, they can learn ways of being there for one another and move forward.
The When Families Grieve kits were developed by leading experts in child development and mental health and include
A DVD featuring the Sesame Street Muppets and documentary footage of families that have experienced the death of a parent due to a variety of situations, including illness, suicide, and sudden and natural causes.
A printed guide for parents and caregivers that provides tips, strategies and activities to help comfort and reassure children during difficult times.
A children's storybook designed to comfort children as they cope with the death of a parent.
Sesame Workshop is distributing When Families Grieve kits, at no cost, to families with children who have experienced the death of a parent with the assistance of organizational partners, including associations such as NFDA, schools, grief centers and counselors, and other organizations that serve families and children. NFDA is the only funeral service association working with Sesame Workshop to share these kits with the public.
All funeral professionals may view the materials in the When Families Grieve kit. Funeral directors may also wish to consider including a link to the Sesame Street website on their funeral home website.
Any funeral director can obtain free printed copies of the When Families Grieve kit for use in their funeral home and community by emailing their request to grief@sesameworkshop.org; kits are available from Sesame Workshop while supplies last.
FSN Funeral Homes is proud to bring you funeral planning resources like this article and the announcement of wonderful programs like When Families Grieve.
Tags: Coping, Grieving, Grieving Children