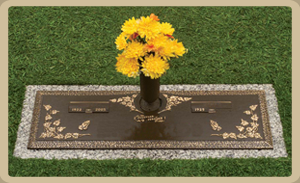 Selecting a monument is a decision that lasts a lifetime and beyond.
Whether you are honoring a loved one or are pre-planning, Tucson Marble and Granite can help you through the process of visualizing and building this important marker piece by piece. They can create a stunning tribute that stand the test of time. Their craftsmen work with precision and care that have been the trademark of this trusted family-owned company since 1917. While this business is located in Tucson, Arizona, they proudly ship anywhere in the world and service all cemeteries.
Beautiful Monuments Crafted From Quality Materials
Using only the best hard stone and proven carving techniques for their work, this monument company knows that you are commemorating an important life lived.
Monuments, urns and plaques are available in many sizes and designs and are guaranteed to remain unchanged for generations to come. When quality is crucial, turn to a company that specializes in hand-crafted markers made with the most enduring materials of nature.
Personalized Headstones
You can choose from traditional text and symbolic graphics for a stately simple look on a bronze plaque or stone. Celebrate memories and create a lasting focal point with a photo etching. With this technique almost any photo can be engraved on a variety of stone to preserve a beautifully realistic portrait.
Understanding The Importance of Remembrance
In a somber time full of important questions, you can work directly with an understanding and compassionate team member to find the right answers. All the skilled employees at Tucson Marble and Granite understands the need for thorough, detailed workmanship and how to create a lasting image for your loved one.
Monuments for a graveside are more than words on a stone. These markers are objects that symbolize the lasting effect a person can have on those around them. This is quite possibly the most permanent physical presence we, as morals, can maintain. Tucson Marble and Granite offer 75 years of experience and artistry in dedicating unique and exquisite monuments to commemorate the dearly departed.