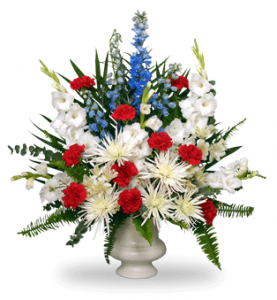 The death of a friend or family member is always a difficult and confusing time. Families often make requests that gifts be given to charity in lieu of flowers.  This is usually the result of advice from well-intentioned friends or organizations. While a family may want to do something special in the name of the deceased, it is not always appreciated by all. There are many implications that go along with an in lieu of flowers request.  An obituary itself is an announcement of the death and an invitation to friends and acquaintances to attend the funeral.  The obituary is not, however, an expectation of flowers, gifts or donations.
In some cases, an in lieu of flowers request can cause discomfort or embarrassment for friends and relatives. Those who do follow the request may be confused and embarrassed by those who ignored the request and sent flowers. Many people prefer more traditional ways of expressing their sympathy and like to make the decision on their own whether to send flowers, make a donation or send a card.
No matter one's preferences, in most funerals today there is room for both flowers and charity.  The concept of giving to charity during a times of sadness can help lift the spirits of those left behind.  The comfort and tradition of giving flowers can also help to lift the mood of the day, as well as create a lasting memory of the funeral.  Personalized funeral tributes can spark wonderful thoughts of times spent together.
In any case, it is always very important to consider what the deceased person would have wanted when making certain requests.  Regardless of the request, a funeral is a celebration of life that should be honored according to the wishes of the deceased and their family.
Related Articles:
More on In Lieu of Flowers
How Funerals & Flowers Got Together
Funeral Flower Ordering Tips
Tags: Funeral Flowers, Funeral Planning