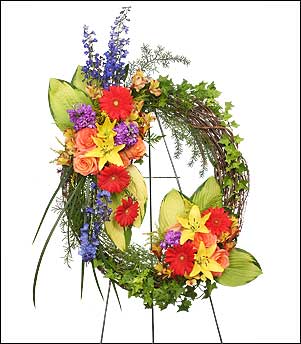 From birthdays to Valentine's Day, weddings and funerals — flowers are a way to commemorate life's most significant celebrations and events. Because flowers are essential to almost all family occasions, funeral flowers continue to hold great importance to most funeral traditions and services today.
Words are sometimes hard to find when a friend or loved one passes. Often, flowers better express the sympathy we feel for the family and our lost friend. The love and respect you feel toward the deceased and their loved ones is immediately conveyed by sending flowers. They are a means of communicating one's love and support for the family, and a sign they are not alone in their burden of grief.
Today, flowers are not just sent to the funeral service, it is also becoming popular to send flowers to the home of the bereaved after the service.  This simple gesture of support can mean a lot to a family that is in the process of grieving the loss of a loved one.  As mentioned before, flowers can sometimes express what words cannot.  Sending flowers to the funeral home where the service will be held is still the most popular way to express sentiment.
Related Articles:
More on In Lieu of Flowers
How Funerals & Flowers Got Together