The idea of funeral flowers has had both a practical and a symbolic use for many years.  In the beginning, using flowers and spices were used at a funeral or burial-place as a pleasant way to mask orders. Today, we use funeral flowers as loving tributes to our lost friends.
The History of Flowers & Funerals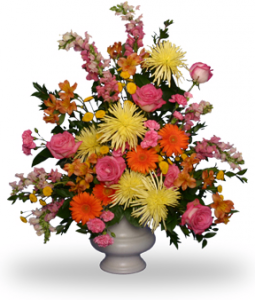 It wasn't until the 18oo's that the practice of embalming became a popular practice.  Conservation practices have been done in many cultures for thousands of years, but it is not until the Civil War that embalming become common in the United States. President Lincoln actually became interested in the idea so that Union soldiers could be returned to their loved ones for proper burial.  After the Civil War however, embalming fell out of use, and once again funeral flowers became popular.
In 1914 C. Austin Miles wrote the famous funeral hymn, "In the Garden" which referenced the afterlife being like a garden stroll. This eventually lead funeral homes to develop indoor gardens as the backdrop of the funeral.
Flowers at funerals are also used when it is difficult to know what to say.  People are often at a loss for words in times of grief. Even when the passing is expected, it is sometimes hard to know what to say.
Why Sending Funeral Flowers Is So Important
Sending flowers is a wonderful way to express one's sympathy and compassion for the family, and show respect for the deceased.
Funeral flowers often are meant to show one's  love, and support for the family.
Personalized funeral flowers can often spark happy memories of those close to the departed.
Flowers also have a symbolic use in that they can create a warm and comforting feeling during the funeral.
Flowers can be a great comfort to those close to the deceased and create a special memory for loved ones to recall long after the funeral.
Related Articles:
Personalized & Creative Funeral Flowers
In Lieu Of Flowers Doesn't Mean No Funeral Flowers
Funeral Flower Etiquette