Let's face it, the average person has little to no clue about what goes on behind planning a funeral service.  That's why there are funeral home directors to guide individuals through the process.  Even so, it's a good idea to have a basic understanding of what you want and what you need before meeting with a funeral director.   That's why FSN Funeral Homes called Janie Singleton, co-owner and funeral director for Faith Funeral Service, to get some insight into recent changes in the funeral home industry and her opinion on the funeral home's responsibility to educate the public.
Through her 12 years working in the industry, Singleton has found many myths exist around funeral planning which create potential problems.  In a recent seminar hosted by Singleton, she discussed three major aspects affecting the funeral home industry which she feels the public should be more aware of: changing burial methods, pre-planning, and new legislation.
Changing Burial Trends Provide More Options
As she discussed the number of ways which a burial may be planned, Singleton stresses the opportunity this gives to those burying their loved ones.  "Every service can be customized to fit each family," Singleton explains, "and that's what we try to do." Here are a few burial options Singleton described:
Traditional – Family hosts a visitation, then a funeral service, and finally bury their loved one in a cemetery.
Graveside Burial – A service is held at the cemetery and the burial directly follows.  Visitations are sometimes held prior to the service.
Direct Burial – No services are held, a simple burial is performed at the cemetery.
Direct Cremation – Cremation occurs without a service.
Cremation with Memorial Service- Family receives memorial folder, registration book, thank you cards, etc. so they may hold a memorial service after cremation.
Cremation with Visitation – A visitation is held before cremation.
Pre-Planning to Prevent Unexpected Obstacles
"Pre-planning is the key to everything," Singleton states several times.  She explains that  by pre-arranging or pre-planning your own funeral, you can avoid some of the legal and financial problems often faced at these times.  "They need to check out the different funeral homes in their area… what is required by law and what is not,"  Singleton advises, " A lot of people think embalming is required and its not.  A lot of people think vaults are required by law and they're not."  These regulations vary by state.
Financially, those seeking funeral home services should be aware of the additional costs of burial, such as purchasing plots and grave digging services.  Legally, certain burial options could become potential problems if not dealt with before the fact.  If you wish to be cremated, there are online forms which may be completed to ensure the process goes smoothly.  As Singleton explains, without such a form, "every legal next of kin – everyone of them – has to sign the cremation form.  It's not simple in most cases, especially if you have more than one sibling."  Objections can prevent the cremation entirely.
She also advises that individuals be prepared with the information needed for completion of a death certificate (for example, the deceased's parents' names).
New Legislation Creates Unexpected Fees
Owning a funeral home which primarily serves northeastern Arkansas,  Singleton feels especially concerned with new Arkansas legislation concerning funeral home fees.  "The major change that has just recently happened is that when a family chooses a funeral home to start out with and then for some reason change homes,  they now have to pay the funeral home for any charges which may incur," Singleton explains,  "[Funeral homes] have always been entitled to be payed for what they have done, I don't fault anyone for that."  What does concern her is the public's understanding of funeral and burial laws and how those unaware of such regulations could be affected financially.The best method to avoid such hidden fees is to research your state legislation concerning burial and funeral homes.  What is required, what you may be charged for, and necessary paperwork varies by state and funeral home so knowledge is key.
Singleton's Call to Action
While dealing with these technicalities during the trying time of a lost loved one may leave you feeling helpless, Singleton believes that funeral homes can adapt to these changes and ultimatley improve their services to better fit the needs of customers.  Faith Funeral Service has begun to do just this.
"We are hosting seminars, we are advertising and we are trying to educate the public," Singleton states of their efforts, continuing to share the message that  "how much money you spend is not an indication of how much you love that person."  She elaborates a sort of buyers remorse when people look at the overwhelming expenses of a funeral, "we just try to educate people so that they don't have to go into debt for a funeral." She hopes that by informing the public, those seeking funeral home services may be better prepared emotionally and financially for the process.
How Faith Funeral Service Does It Differently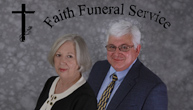 Faith Funeral Service was founded on this idea, that every effort should be put forth to provide affordable and reliable funeral home services. Steve Keating, the founder of Faith Funeral Service and Singleton's business partner, began working in a traditional funeral home.  After some time and research, Keating found he could create a more cost-effective business model which would also meet the needs of his customers more comprehensively.
"Most funeral homes cover their local area, which is the town their in … we cover a 75 mile radius with no additional charges.  We try to get people to take the funeral to their own church. We make the arrangements here and then take it to their hometown,"  Singleton states.
The question remains, does this non traditional business model work?   Singleton thinks so.  Not only does this method cost half of the national average, but according to Singleton, those who have worked with them have found the experience more pleasant.  The "warmer environment" of a family church allows those suffering from the loss of their loved one to be surrounded by those who care and "helps the healing process." "Let's face it," Singleton states, "who wants to go to a funeral home?"
By taking their funeral home on the road, Faith Funeral Service has created new oppurtunities for those planning a funeral service.  They use this new approach to ensure that each of their customers are getting the most out of their money and have options better suited to their individual needs.
Whether pre-planning funeral arrangements or dealing with the funeral planning of a recenlty deceased loved one, education remains one of the most important aspects.  Familiarize yourself with your local funeral homes and state legislation.  Research possible burial methods and, most importantly, find what works best for you.  The key to successful funeral planning is to know what you want and to find a funeral home which is willing to meet those needs and explain more difficult aspects of funeral planning personally.  Keep in mind that the price of a funeral home's services does not always reflect its quality.  Speaking with previous customers or researching reviews could give you a good idea of how a funeral home works with its customers.  With these concerns addressed, the stress of a funeral will be much more manageable, giving you time to spend with family and friends instead of unwanted paperwork.
Pallbearer photograph from Burns Library, Boston College on Flickr.
Funeral Director photograph from s_falkow on Flickr.
Tags: Funeral Planning, Funeral Pre-Planning, Funeral Services