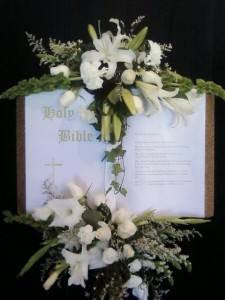 The giving of sympathy flowers is a long-held tradition in many cultures and offers mourners the opportunity to express condolences with more than mere words. It is often hard to find the perfect thing to say when expressing sympathy to the family member of a lost loved one. People deal with grief in different ways, and knowing just how to approach an individual after she has lost a friend or family member isn't always plausible. Sympathy flowers offer a time-honored solution.
Flowers are always a welcome gift, even in the worst of times. The beauty and love which can be portrayed in an intricately detailed sympathy arrangement will reflect the love you bear the deceased and her family. Of course, the most beautiful arrangements come from the most talented florists and designers, and those are always found locally.
Opening the Flower Basket
For those in the Madison Heights and surrounding area of Virginia, The Flower Basket stands as a full-service floral shop which specializes in sympathy flowers. They provide only the best and highest quality flowers woven into a gorgeous arrangement depicting stellar workmanship. Each piece is hand-crafted with the intricate detail born of many years of experience and the one thing that can't be taught, talent!
Personalize Your Tribute
Sympathy flowers are a very personal expression of love. That's why owner/operator Dawn Stamm not only allows you to choose from a wide selection of sympathy flower options such as casket sprays, standing sprays and sympathy arrangements, but you can also work directly with her to create your own design. Dawn will take the input you provide and weave a floral tapestry which illustrates the essence of your tribute.
Dawn and the other floral artists that make up The Flower Basket staff are ready and willing to offer you as much, or as little, help as you require. And if the deceased was a sports fan, this group of designers have extensive experience creating tasteful displays with sports-related themes.
Don't let a friend or loved one pass unremarked because you can't think of the right words. Send a sympathy arrangement and let the flowers do the talking for you.
Tags: Funeral Flowers