Planning a funeral seems like a difficult task. With all different types, shapes, sizes, flower placement styles and cremation burial options available it can seem impossible to select a memorial that is meant to enshrine your loved one's memory for eternity. In the next several sections, different types and styles of cemetery monuments have been described that should make selection during a difficult time easier.
Companion Monuments
Companion headstones usually sit on a family plot and are meant to memorialize more than one person. While these monuments are typically meant for two people, they can be enlarged to allow for the names of more family members.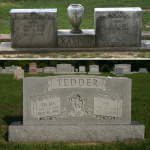 Companion monuments can come in an upright or flat style. We will mention all the flat, slanted and bevel styles further down in this article. When thinking of purchasing this monument, consider whether or not you would like to be able to place flowers on the headstone.
There are many flower options that exist for companion monuments. One such option is an interconnecting vase between the two sides of the companion headstone. Another option is to have one large double monument with flower vases on either side. There can also be an inlaid space at the top of the monument that allows for flowers to be easily placed on top.
A final option could be a monument with no designated space for flowers and one could purchase a wire flower saddle. The wire flower saddle straddles the cemetery monument at the top and allows for easy flower placement on an upright headstone.
Individual Monuments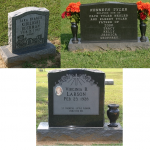 Individual monuments are meant to be memorials for one person. As with companion headstones, individual markers come in flat or upright styles and have flower placement options.
There can be two separate vases along either side of the individual marker, an indented space can be made available at the top of the headstone, or a wire flower saddle can be placed upon the individual gravestone.
Individual headstones have space on them for a design, the name and dates of your loved one.
Bevel, Slant, and Flat Monuments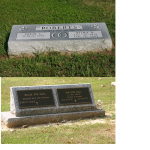 Bevel and slant cemetery monuments are meant to sit at the head or foot of a grave. A bevel monument is flat and a slanted monument sits upright at a slight angle. The design of the bevel or slant monument is to allow one to read the marker when approaching the grave memorial.
These headstones can be small enough for just one name or large enough to be a companion monument. What makes the slant and bevel headstone different from a traditional flat marker is that a base is located beneath the monument.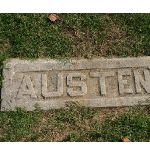 This allows the marker to be lifted, making it more visible and also keeping lawnmowers back. Flower vases can also be placed at one side of these markers to allow for convenient flower placement.
This type of monument is large enough to put an engraving of a small design, as well as the full name and dates of your loved one.
Flat markers, like slanted and bevel cemetery monuments can be small enough for just one name or enlarged to be a companion style.
They are similar to slant and bevel styles except that there is no base located beneath the monument. They are at ground level allowing lawnmowers to mow over them.
Bench Monuments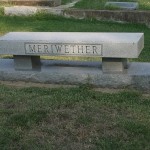 Benches are becoming an increasingly popular monument style. This modern design allows for individuals to customize the bench by placing the engraving on the seat or bench supports (pedestals). Along with artisan engraving, custom artwork depicting hobbies, scenes, and memories can be placed on the benches as well.
Many bench monuments include attached vases for the placement of flower arrangements. Some bench designs even allow for cremain placement within the bench itself. Bench pedestals, also, come in a variety of styles to further customize the monument.
Mausoleum and Cremation Memorials
Mausoleums
Mausoleum monuments come in several different styles. One style is referred to as a top loading mausoleum. In this case, the top of the mausoleum is removed for interment. Another style is a walk-in mausoleum which has a door, and sometimes windows that lead to a small room where the bodies are interred along the side.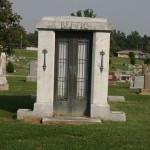 Mausoleums can be made for a single person or many people. A mausoleum monument has a large enough space for many names, dates and designs. Mausoleums are most popular in areas where the ground is not suitable for in-ground burial or where burial land is limited.
Cremation
There are a few cemetery placement options for cremated remains. There is a cremation marker, which is a headstone or statue that marks the plot where the cremains are buried. A columbarium is another option for cremains.
The columbarium is a permanent structure, like a wall, made up of spaces where family members can place urns containing ashes. A plaque is placed over the space with the name and dates of your loved one.
Burial Monuments with Pictures Inlaid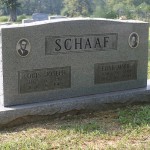 Depending on the type of cemetery monument selected, there are several options for picture placement on a headstone.
A more traditional option would be a porcelain portrait. These are made of enameled metal and are placed on the monument itself. These can come in different shapes like an oval, rectangle or heart, and can come in a variety of sizes. A frame or cover is typically added to the picture before it is placed on the memorial.
Portraits can also be etched directly into the headstone. The etched portrait option is usually larger and gives a more life-like quality to the headstone than a porcelain portrait.
Military Memorial Monuments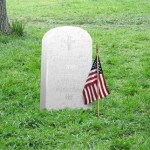 For those who served in the Armed Forces, the U.S. Department of Veterans Affairs will furnish, upon request and at no charge to the applicant, a government headstone for the unmarked grave of any deceased eligible veteran.
For a veteran who died on or after November 1, 1990, whose grave already has a monument, the Department of Veterans Affairs may also furnish a monument to supplement the grave or a medallion can be attached to the privately-purchased headstone. If burial is in a national, state veterans or military base cemetery, then the headstone can be ordered by cemetery officials there.
The Department of Veterans Affairs does not charge for this headstone, but if the monument is placed in a private cemetery, then placement and setting fees for the headstone are the responsibility of those who applied for the monument.
Bronze Monuments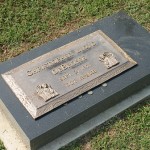 Bronze memorials are typically required in memorial park cemeteries. These monuments have a granite base beneath them and are set at grass-level.
Engraving can also be done on the granite base to make a custom memorial that will enhance your bronze monument. These cemetery monuments can be for an individual or for a companion grave-site and bronze vases can be added for easy placement of flowers.
Specialty Monuments
Specialty monuments are meant to be more personalized to the individual loved one. These custom creations can take almost any shape one can imagine. These monuments are meant to show off the personality of the loved one, and at the same time show how much they meant to those they left behind. These burial monuments can be in the shape of an object that meant a lot to the loved one, like the shape of a car. They can have custom designs engraved into the headstone, like a motorcycle, lighthouse or favorite sports team.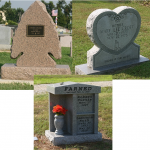 While in general specialty monuments are meant to be customizable, they can also come in more traditional shapes and styles. Examples of this would be the shape of a heart or cross. A beautiful monument often seen is that of an angel draped over the headstone.
A specialty cemetery monument can be whatever one wants to make of it. It can be as grand and spectacular as one can think of or just a simple celebration that shows off the individuality of the deceased. Specialty monuments allow people to be creative when trying to memorialize a loved one.
The passing of a loved one is a very difficult time to work through. While this article's intent has been to show the cemetery monument style options available, it is also important to remember what the deceased loved one may have wanted when selecting a headstone.
Another important thing to note is that the monument company one chooses can be very helpful when making a headstone decision. This is because they will have an array of popular styles that will help one to narrow down a selection. Planning a funeral can seem like a daunting task, but with thought and planning, you can select the perfect cemetery monument style for your family.
Tags: Burial, Funeral Planning, Monuments