The loss of a pet is utterly heart wrenching. To some, it's like losing a member of their family. Pet memorials are a great way to commemorate the lives of those who gave you so much love and companionship. All pets are special and deserve a high quality memorial that will remind you and others of your wonderful life together. Pet families need the same support as those who are grieving the loss of a human family member. This is why dog and other pet memorials are becoming increasingly popular.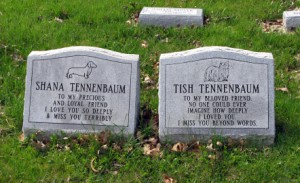 There are many memorials available that can capture the special nature of your pet. You'll find headstones, pet memorial stones, urns, tribute boxes, pet memorial jewelry and even online memorials.
Pet Headstones & Urns
There are many different types of headstones and urns for your beloved pet. Many companies provide headstones that feature their name, date of birth and passing date. You can even have it personalized by adding a precious photo, including a tribute or creating a special design. Monument companies will have many suggestions to enhance your ideas.
If you are wanting to have your pet cremated, you'll also find various urns for the ashes. Again, you'll find many designs and styles so you can choose the best one that suits your pet's personality. Choose from wooden photo boxes, marble urns with or without a personalized photo, urns with poems, figurine urns and outdoor urns. These can easily be personalized exactly as you want so your friend is memorialized.
Shadow Boxes
Another alternative is a shadow box. This is a tribute box for your pet where you can place special photos, mementos, paw print impressions', dog collar or favorite toy. Whatever your pet was fond of, include it in the shadow box. What a comforting way to memorialize your pet in your home. Every time you see the shadow box, you will be reminded of the special times you shared with your beloved dog, cat or animal family member.
Memorial Jewelry
You'll also be able to memorialize your pet with jewelry. Pendants, bracelets or necklaces are available in different sizes, shapes and designs. Memorial jewelry is a way to keep you cherished pet close to your heart.
Memorial Pet Gardens
If you would like to honor you pet in a unique way that is comforting year round and you can celebrate the life of your pet, consider creating a memorial garden. Create a nice resting place for your beloved pet with a personalized memorial that is surrounded by beautiful flowers and trees. Your cherished pet can rest peacefully in their own lovely living memorial.
There are many ways to honor your beloved pet. It's never easy to say goodbye, but a well-chosen pet memorial can help you remember your special pet.