A columbarium is a specially designed room or building with niches for cinerary urns (cremation urns) to be stored, much like a mausoleum. There is a trend in the monument industry toward using the word mausoleum for both bodies and ashes (cremains), instead of the older term 'columbarium'.
Types of columberia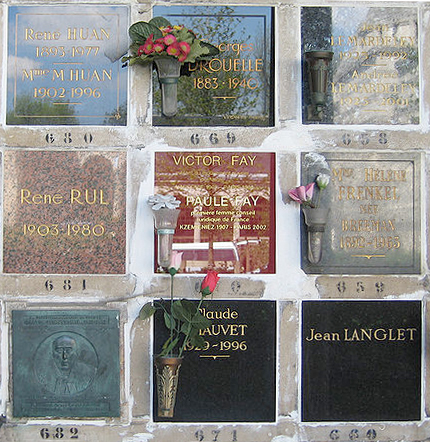 Modern columbarium designs are simple and tasteful. Some columbaria disappear into their surroundings, such as a garden wall, while in others have highly customizable niches. They are typically constructed similar to mausoleums and out of the same materials. You will find both indoor and outdoor columbaria at both churches and cemeteries. Indoor columbaria may offer climate controlled niches.
Columbarium niches vary in size, and some allow for two urns to be placed together. Sections of columbaria may be designated for entire families. Depending on the cremains vessel selected, there may be limited space for small memorabilia.
Where are columbaria located?
Columbaria are usually located in a cemetery, but can also be built into churches or are located on church grounds.  A columbarium can take various forms, but in a church building they are usually located in an interior wall. They can also be constructed in the churchyard, garden or a cemetery in various shapes and sizes. In some cases, one area or wing inside of a mausoleum is designated for cremains. Some are permanently sealed niches, where as others the face front panel is unlocked. The name of the deceased is usually inscribed into this panel.