Although most monuments are created with durable stone or metal, they should still receive proper care to pay respect to loved ones for many years to come. What goes into cleaning monuments? Why should you clean them? Recently, FSN Funeral Homes was able to interview Wrex Lindsay from Renew Monument Services to better understand the benefits of renewing monuments.
FSN Funeral Homes: Why should people clean monuments?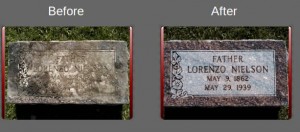 Wrex Lindsay: There are a several reasons why people should clean their monuments. Over time, hard water, bird droppings, mold, dirt and acid rain can damage a monument. Those elements will cause the stone to weaken and begin to chip or stain. Secondly, the monument represents a loved one. By cleaning the monument, family and friends feel that their loved one is being taken care of.
FSN Funeral Homes:  So, there are many benefits on having headstones cleaned?
Wrex Lindsay: Yes. Not only does it make the monument look better, but it protects the stone from cracking, chipping or staining.
FSN Funeral Homes:  Exactly when will they know when it is time to clean their monument? Are there any signs to look for?
Wrex Lindsay – When the monument starts looking dirty and is losing its shine and appeal, then it is time to start the cleaning process. Our company offers a biannual and annual service plan to ensure monuments are protected and are kept looking their best.
FSN Funeral Homes – Is it really necessary to clean a monument that often?
Wrex Lindsay – When a monument has not been regularly cleaned, it is extremely difficult to remove dirt, mold, etc from the surface without the right cleaning techniques. We do recommend every 6 months to keep the stone looking great, however, Renew Monuments services also offers an annual plan. It is a matter of which plan works best for your monument.
Renew Monument Services is a professional headstone service company dedicated to the preservation and care of monuments, memorials, bronze markers, plaques, family cemeteries, and gravesites in Salt Lake City, Utah. Their main priority is headstone cleaning. However, they also re-level headstones, repaint headstones, and can re-seal headstones (basically re-glue the pieces of the monument together).
Tags: Monument Cleaning