For many, creating a lasting monument for their loved one is the best way to keep those memories alive. But, how can you best display your loved one's personality on these lasting memorials. Fortunately there are a variety of ways in which a memorial can be personalized. Recently, FSN Funeral Homes had the chance to discuss personalized memorials options with Chris Freybler from Custom Engraving.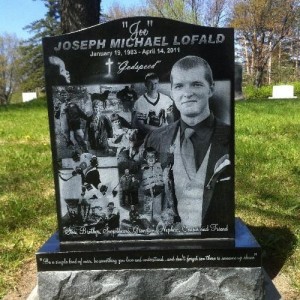 FSN Funeral Homes: What does your company do to personalize memorials?
Chris Freybler: Our company FromPhotosToForever.com takes snapshots or professional photos and digitizes them to be engraved into marble or granite.
FSN Funeral Homes: What type of memorials can be personalized?
Chris Freybler: We personalize memorials that can be utilized in a cemetery, as well as memorials that can be used in somebody's home, flower garden, dedication to a flagpole or even a memorial tree. The headstone pieces are lifestory memorials. Our customers can take take a whole series of pictures throughout their loved ones entire life and create a beautiful collage.
FSN Funeral Homes: How involved are you with your customers when personalizing a monument?
Chris Freybler: We like to talk with them first to get a sense of their loved one and ask them to send photos they would like to be placed on the monument. From there, we discuss what photo is their favorite, which one they would like to use as a focal point and just get an understanding on what their loved one was like. Next, they'll receive a layout based on what we discussed and they can approve or change the layout if they would like until they are 100% satisfied with the end result. Once we get that approval, we use state of the art lasers to engrave the granite. We work with our customers every step of the way to ensure that their loved one's personality is captured.
FSN Funeral Homes: Why personalize a monument?
Chris Freybler: Again, they are lifestory memorials. They can actually talk about the person through picture form instead of words, so everyone who sees it can get a sense of the person. Having photos tells more about the person: who they were, what they like to do and what they look like. It's more personable. It makes a trip to the cemetery more significant. Instead of just staring at a cold stone, it makes it more meaningful for the family and anyone else who visits when they have a picture in front of them. Not only is it important to the family then, but down the road as well, like when they may take grandkids or great grandkids that may not know who the person was, there's a showcase of pictures for them to get a feel of who their grandparents were as a person. A lot of our customers tell me, "Now when we go the cemetery, we're looking for a person, not just a name and date. We're actually looking for grandma or dad." You're actually going to look for your loved one.
Personalizing a monument is truly special for both the family and their loved one. It best displays your loved one's personality and tells who they were as a person. For more understanding on how FromPhotosToForever.Com does this, see their video below.
Tags: Monuments