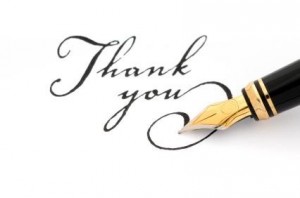 Acknowledging expressions of sympathy from your family and friends is more than proper funeral etiquette. For many, these thank you notes are a comforting part of the healing process to gain closure during a difficult time.
Although it is not necessary to send thank you notes to everyone who attends the funeral service, it is important to express your gratitude to those who do something special.
Sympathy Tribute Examples:
Someone who sends or brings flowers
Someone who makes a memorial donation
Someone who helps the family financially
Someone who helps provide food, transportation, baby sits or assists you in any way
The Pallbearers
The Clergy
How do you keep track of it all?

Relying on your memory is not a good idea during this time. It is important to assign someone (if you can't do it yourself) to keep a notepad and pen in hand throughout the services to keep a record of those who have helped, or made a special effort on your behalf.
When do you send out funeral thank you cards?

Send out thank you notes within 2-3 weeks of the funeral or memorial service.
If you find it too difficult to write them yourself, asking a friend or family member to help will make the task easier.
You can buy pre-written thank you notes, but make sure to add one or two personal sentences to each person.
Examples of Thank You notes for Funerals:

Thank you for your kind expressions of sympathy…
Thank you for your kindness…
Thank you for your support during this difficult time…
Thank you for the beautiful floral arrangement…
Thank you for your thoughts and prayers…
We deeply appreciate all you have done…
We will never forget the love and support you have shared…
Tags: Funeral Etiquette, Thank You Cards