What is a Eulogy?
A eulogy is a heartfelt, good-bye tribute to honor and celebrate the life of the deceased. This tribute addresses not only to the person who has died, but to the friends and family that have gathered at the service.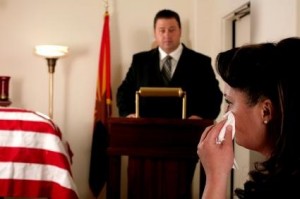 A Eulogy Includes:
An introduction to the person's life
Details, such as family, friends, interests, passions, likes and dislikes
Significant memories and achievements of the deceased
Scriptures, poetry and favorite stories written or enjoyed by the deceased are commonly read
It does not have to be perfect, the most touching and meaningful eulogies come from the heart. Eulogies are not a biography, rather a loving and heartfelt speech that expresses the feelings and experiences shared between the person giving it and the deceased. Remember, whatever you write and deliver in the eulogy will be appreciated by the people in attendance.
How To Write A Eulogy
1.) Recall memories: Think about the relationship you shared, where you met, what you did together, humorous or touching memories and what you will miss the most.