PCS Laser and Memorial helps you through this very difficult time with ease and compassion. Dealing with the loss of a loved one is a very difficult process and their goal is to make this transition a time of remembrance. By working with you to create the monument you and your family deserves is what they strive for to create a long-lasting memory.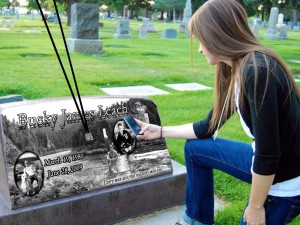 In their 25 years of business, many of their services have grown and changed, including their laser etching. Both remarkably detailed and long-lasting, laser etching on granite is an ideal way to preserve the memory of a loved one. Along with their laser etched monuments, you can even bring in personal photos of your loved one to create a custom image. Both are such wonderful ways to commemorate your beloved.
Another way their services have grown is with the addition of their isotone memorials. This new innovation memorial links cemetery memorials to a website that can be shared with loved ones around the world. QR codes on memorials act as a link from a smart phone to an online memorial. This is a great way to personalize a headstone eternally leaving a legacy behind.
Let a Memory Live On
First off, what is a QR code? Similar to a barcode, yet it contains so much more information. A QR code can be added to any memorial allowing smartphone enabled phones to scan it and then be taken to your loved one's history, such as an obituary, photos, comments left by family and friends and even a video. Once someone scans the QR code, they will be connected to a personalized website which will then share your family's history for years to come. Their legacy will live on and it becomes more than just a headstone. Visitors will truly get a feel of who they were as a person. Keep your family's history alive with an "istone".
PCS Laser and Memorial  offers beautiful headstones and even some that make for a  truly interactive experience. Giving anyone who visits more of a connection to your loved one as well as helping preserve your family's history for generations to come.
Tags: Monuments