We're Here For You...
Locate a Funeral Home
Funeral Planning Tools
United States > Arkansas > Manila
Faith Funeral Service LLC. Info
Choice at an affordable price...
2658 W State Highway 18
Manila, AR 72442
Services Offered
• Pre-Arrangements
• Funeral Announcements
• Obituaries
• Caskets
• Funeral Program
• Cremation Services
• Burial Insurance
• Interment
• Burial Vaults
• Grief Counseling
• Memorial Program
• Jewish Services
• Veteran Services
Company Profile
Company Details
Faith Funeral Service was opened in May 2006 on the belief that everyone should have the funeral of their choice at an affordable price and in response to the high cost of funerals. Our business model allows us to travel up to a 75 mile radius and provide funeral services at your church or cemetery with prices 40% - 50% less than other firms. How do we do this, most people ask. Well, it's not complicated, we keep overhead down, with fiscal responsibility and volume purchasing, which in turn allows a much lower markup on our goods and services that we provide. Bottom line, we are much more efficient at providing a funeral. High quality funerals don't cost us anymore, so why should you pay more? After over 4 years we are exceeding our expectations and are growing at a rate of more that double last years funerals.
Additionally Proudly Serving
Campbell, MO
Corning, AR
Harrisburg, AR
Jonesboro, AR
Kennett, MO
Paragould, AR
Pocahontas, AR
Rector, AR
Trumann, AR
Walnut Ridge, AR
Funeral Home Directors
Let us introduce our staff:

Stephan Keating, founder and co-owner, worked in the funeral industry for over 20 years before starting Faith Funeral Service, LLC. He is a fully licensed funeral director and embalmer in Arkansas and Missouri. He is a Rotarian, Paul Harris Fellow, Eagle Scout and a Municipal Judge in Missouri.

Janie Singleton, co-owner, previously worked in manufacturing and mortgage banking before starting her career in the funeral industry in 2008. She is a licensed funeral director in Arkansas and a fully licensed insurance agent in Arkansas and Missouri.

Carie Hawkins, office manager, has worked in the funeral industry for 10 years. She is a licensed funeral insurance agent and an apprentice funeral director.

Lee Ann Cook, apprentice funeral director and embalmer. She is also a mail carrier for Manila, Arkansas.

Barbara Challis, beautician, has worked with many funeral homes and has a "gift" for making the deceased look natural and pleasing to the family.

Kim Sheets, licensed funeral insurance agent, serves the Paragould, Arkansas area. She also teaches voice lessons.

Vicki Alphin, licensed funeral insurance agent, serves the Pocahontas, Arkansas area. She also works for the Maynard schools.
To better assist you we have included driving directions to Faith Funeral Service LLC..


Reviews
Video
Photo Gallery
Casket Selection Preview
A video with a preview of the casket selection available at Faith Funeral Services.



Click on any photo for a larger view and a description.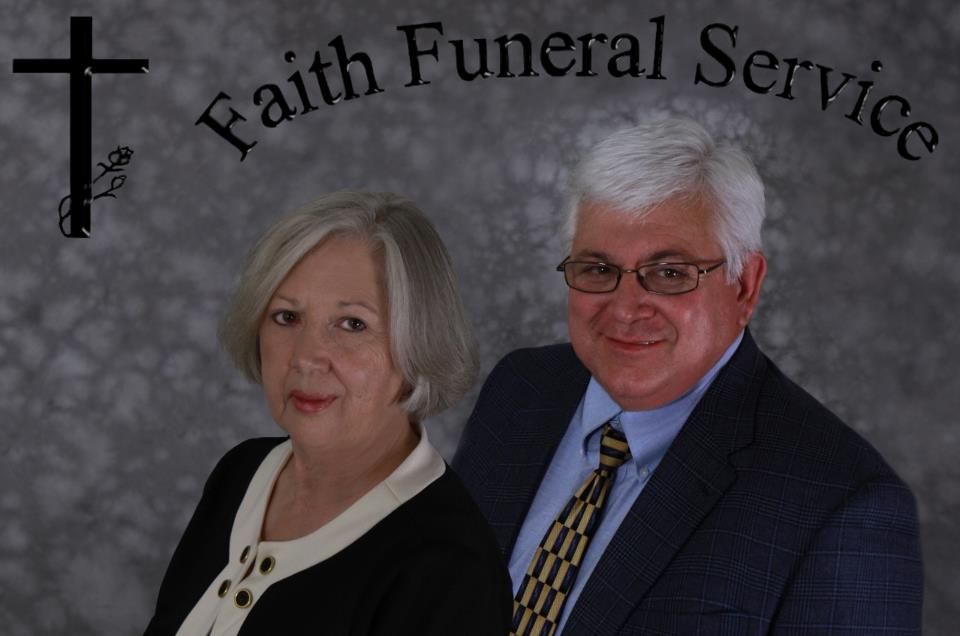 Faith Funeral Services Owners